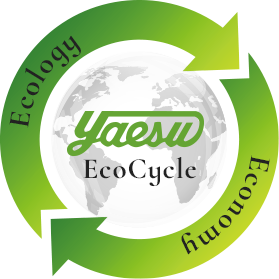 While we provide service to the market, we might lose something important. We receive instructive service, but we dwell on the planet earth simultaneously.

Of course, we provide and receive instructive service on condition that we must not forget gratitude to this planet.
We think that it is very important responsibility for us as a corporation who is living on the beautiful earth.

We think an amazing circulation called the ecological system is the most important because the environment itself is the precious managing resource for us YAESU KEIKOGYO CO., LTD.

We will try our best to propel environmental load reduction and nature conservation act in order to establish a rich and durable society without making the environment worse.

Ecology

YAESU promotes a nature conservation act in the idea, "YAESU Eco Cycle", and we cope with "Green Supply", which is the corporate action to choose the one which imposes less burden to the environment when a corporation supplies materials, parts or service from a supplier.
This action urges a supplier to produce ecological products.