Customized Solution


We analyze customer's needs, problems and concerns in technical and marketing point of view, resolving them by embodying products.
Based on 55 years experience, our Modification/Customization techniques have been receiving great evaluation from variety of industries including medical, welfare, airplane and so on.
YAESU is a solution provider to solve your problem, please feel free to contact us.
Examples of modified machine
Case 1
Arm Stand for Space-Saving.
Case 2
ZCUT-9GRRP to peel backing paper, modified for bigger roll of tape.
Case 3
Customized machine for Security Tape.
Case 4
Safety Plate&Switch
*Operation stops when the plate is removed.
Case 5
External Counter
*Capable to count till 99,999,999.
Case 6
External Signal
Modified to send START operation signal from Controller/Sequencer.
Optional Parts (Roller, Blade)
Optional spare parts are available to apply different kinds of tape with one machine.
Followings are just examples of optional parts. Please feel free to contact us for any modification request.
Non-Adhesive Roller
Purpose
Non-adhesive roller #2 & #3, to avoid tape's sticky material accumulated after long-term usage.
Applicable Models
ZCUT-9GR, ZCUT-10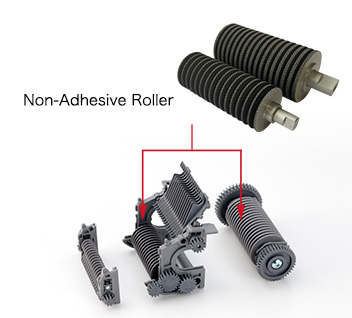 Metal Roller
Purpose
We have optional Metal Roller #5, which lasts much longer. Standard one is made of silicone and it is a frequent consumable part.
Applicable Models
ZCUT-9GR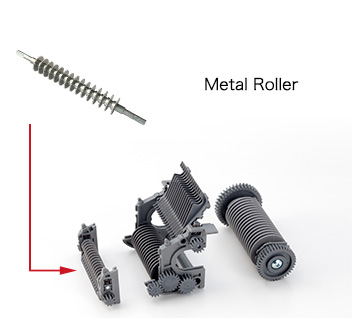 Silicone Roller
Purpose
Scratch prevention on tape surface.
Applicable Models
ZCUT-3EX、ZCUT-3150
ZCUT-3250、XCUT-150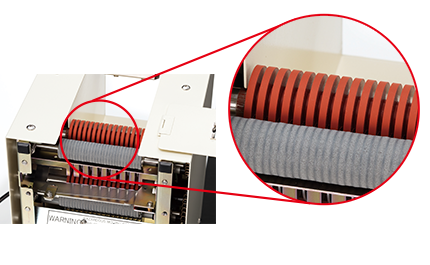 ■Non-Adhesive Blade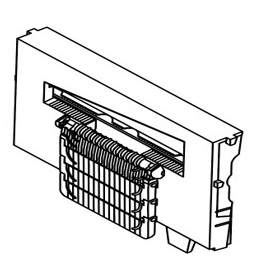 Blade Unit for ZCUT-9GR
Non-adhesive blades are available as well. Effects will differ depending on which point to be processed (Upper/Lower blade, Front/Rear surface). Please contact us to provide the best solution.