FD-300 (Bobbin Type)
Cut OPP rolled film into various sizes of lengths with high speed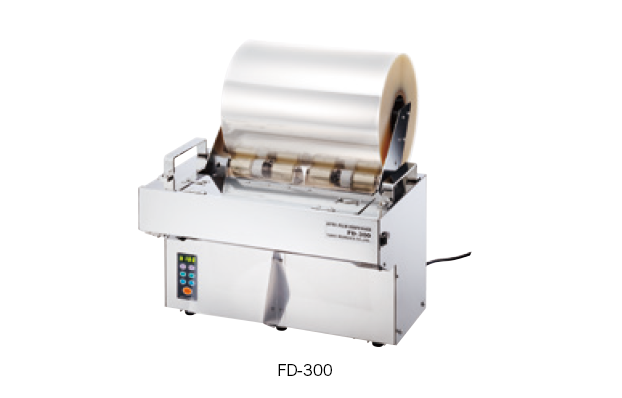 Cutting Length

20~9999mm
Film Width

300mm
*FD-200Ⅲ and FD-300 are with Bobbin
●

 More efficiency and hygiene because other film is placed apart.

●

 High speed in cutting 48pcs per minute (100mm length).

●

 Durability: Stainless steel body and cutting blade last longer.

●

 Film is safer in humidity as it comes out vertically.
Specifications
Rated Voltage
AC100-240V 50/60Hz 45W
Dimension (Excluding boss)
436×347×284mm(W×H×D)
(Including Bobbin Stand)
Weight
17.6kg
Film Width
300mm(Max.)
Cutting Length
20~9999mm
Max. Roll Diameter (mm)
210mm
*FD-200Ⅲ and FD-300 are with Bobbin.
*Specifications are subject to change without prior notice.
Ex. Safety Cover, Arm Stand and Removing Liner Paper etc.
Customized Solutions
Depending on your usage and using tapes.