ZCUT-9GR
New Additional Function
New Evolutionary Model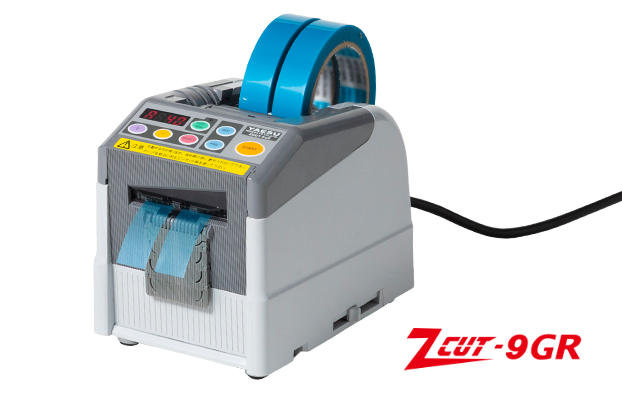 Cutting Length

5~999mm
Tape Width

6~60mm
Usable Tapes

Craft, PP, Vinyl, Filament, Glass Cloth, Double-Sided, Strapping, Protective Film, Aluminum Foil and Others
●

 Six different lengths can be programmed for cutting.

●

 Remove Roller Unit without using any tools and easy to take maintenance.

●

 Two roll tapes can be cut at the same time due to Dual Photo Sensor.

●

 Preset Mode and Loop Mode are available.

●

 A cut piece of tape is positioned to take out.

●

 Set a tape without using bobbin.

●

 Non-adhesive tapes can be cut.

●

 Build-in Separator for cutting two rolls tape, Guide Plate, and Blade Oil.
■ OPTION
Only supply with ZCUT-9GR.
ZCUT-9GRRP

▶


Cut a tape with backing paper while removing it.
Arm Stand
Programing Function
Six different lengths can be programmed for cutting



Specifications
Cutting Length
5~999mm
Tape Width
6~60mm
Tape Thickness
0.05~0.3mm
Usable Tapes
Craft, PP, Vinyl, Filament, Glass Cloth, Double-Sided, Strapping, Protective Film, Aluminum Foil and Others
Feeding Speed
220mm/sec.
Approximately 50pcs/min.
(in the case of cutting 100mm with craft tape)
Max. Roll Diameter
300mm
Accessories
Separator, Blade Oil, Guide Plate, Power Cord
Body Material
ABS
Rated Voltage
AC 100-240V 50/60Hz 25W
2A Fuse (Built-In Inlet)
Dimension
116×140×213mm (W×H×D)
Weight
1.6kg
*Some of usable tapes may not cut as depends on the material and tape brand.
*Cutting length may be beyond cutting tolerance as depends on the type of tapes.
*Specifications are subject to change without prior notice.
Ex. Safety Cover, Arm Stand and Removing Liner Paper etc.
Customized Solutions
Depending on your usage and using tapes.